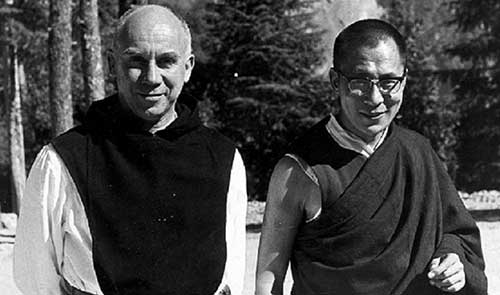 If you are in Christchurch on Thursday, 16 March, do come and listen to Helen and me talk about Thomas Merton and Mindfulness, and discuss and ask questions, in the Chapman Room at Christ's College (Rolleston Ave). The talk starts at 7:30pm followed by refreshments. You will be getting away about 9ish.
ANYONE and EVERYONE is welcome. We hope to see you there.
Do let others know – let your friends and church community know; advertise it in your church and pew sheet.
In "Thomas Merton and Mindfulness", we are looking at the most influential spiritual writer of the 20th Century and his connection with the popular movement towards mindfulness.
We are both trained teachers and both hold degrees in Theology. We have a long-time interest in Thomas Merton, one of the most influential spiritual leaders of the twentieth century (and the son of a Christ's College Old Boy). We also have a wealth of experience around the spiritual journey, and are passionate about nurturing the hunger for spirituality that is evidenced in the popular Mindfulness Movement. We are enthusiastic about bringing to light much in the Western, Christian tradition that has been overlooked – practices that can enhance living Mindfully.
This is one of the events of the Centre for Ethics and Spirituality.
If you appreciated this post, do remember to like the liturgy facebook page, use the RSS feed, and sign up for a not-very-often email, …
Similar Posts: