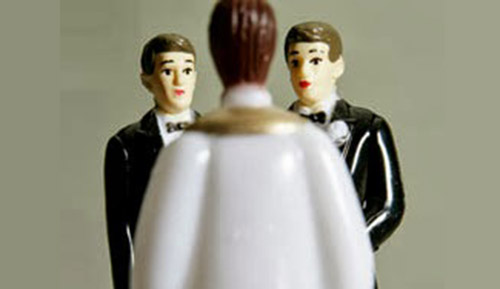 Scottish Episcopal Church shows a way forward
The Scottish Episcopal Church has opened marriage to committed same-sex couples. It has done so through changing its Canon 31 of marriage, removing that it is " one man and one woman…and lifelong" and highlighting:
In the light of the fact that there are differing understandings of the nature of marriage in this church, no cleric of this church shall be obliged to conduct any marriage against their conscience.
This is exactly the approach I suggested in my submission to the Working Group trying yet again to find a way forward in NZ Anglicanism's rut-stuckness on committed same-sex couples. In NZ, we already have in place that "Any minister shall have full discretion to decline to conduct any marriage service." (Canon III of Marriage 2.11).
NZ Anglicans cannot marry divorcees
NZ Anglicanism's doctrine is that marriage is "between a man and a woman, life-long, and monogamous". The stuckness is pretty straightforward: If sex is morally to be limited to marriage, and if marriage is "between a man and a woman", then NZ Anglicanism cannot bless a committed same-sex couple. That's the Gordian knot.
A good way to do a trick is by distraction. You can hide things in plain sight. For over fifty years, in spite of the doctrine being clear that marriage is life-long, NZ Anglicans have been breaking this for the majority (heterosexuals) and marrying people already married. NZ Anglicanism even has a rite, produced by the Church's liturgy commission, Liturgy for recognising the end of a marriage.
My open letter about the duplicity to NZ Anglican Church leadership has now been waiting for a reply for over a year. The letter has been considered by General Synod Standing Committee meeting, the Chancellors, and the Liturgical Commission. After a year – no reply has been received. People have rightly, in my opinion, been understanding the lack of response as a silent acknowledgement that NZ Anglicanism marries divorcees without foundation. If the Church were to acknowledge that the majority heterosexuals have been ignoring the NZ Anglican doctrine of marriage, then the pastoral consequences of cleaning up the mess is unimaginable. Hundreds, thousands of marriages are cast in doubt; dozens and dozens of clergy licences come under threat;…
But don't try that sort of ignoring of NZ Anglican doctrine when it comes to the minority, homosexuals…
The Church That Discusses Gays
The mouthful of the NZ Church's official title is "The Anglican Church in Aotearoa, New Zealand and Polynesia". It is often misnamed. Easier to remember, because of its worship life, is The Anglican Church of Or. To others, it will be known as 'The Church That Discusses Gays'.
The failure of General Synod meeting after General Synod meeting to resolve the discussion has led to yet another attempt at another way forward which, we are told, will be revealed in July. In our diocese, before that revelation, we are to have "respectful listening exercise[s] for the Sexuality Conversations requested at our last Synod… the Sexuality Conversations, … are not about blessing relationships but simply the relationships, prior to reception of the 'A Way Forward' report."
To be clear, such conversations are far from new. Gay friends remember discussions beginning in the 1960s; a day seminar for synodspersons facilitated by our Diocesan Committee on Homosexuality in 1979; parish conversations in the 1980s. There have been Lambeth Conference debates, shelves of books, Hermeneutics Hui, 'The Bible in the Life of the Church' project, motions, blog posts, articles, sermons,…
This church bus has been going round and round and round this particular roundabout now for so long that it has worn a donut rut into the ground. People have been flung centrifugally from the bus, and (the stats speak for themselves) people more concerned about the environment, refugees, poverty, unemployment, worship, and even growing in a contemplative relationship with God see little reason to get on this bus, or, with its non-stop motion around this centre, struggle to do so should they want to.
A discussion with a gay CofE priest recently led to a quick survey of NZ Anglican dioceses and the confirmation that the majority of NZ Anglican dioceses do not seem to have out gay licensed clergy.
I continue to think that my suggestion of altering the NZ Anglican doctrine of marriage is the only honest way forward. The only other honest way forward is to admit that the last five decades of marrying heterosexual divorcees was without foundation and inconsistent with Church doctrine – and then work through the pastoral fallout from that sincerely. The Scottish Episcopal Church shows NZ the changing-doctrine way forward. The Very Rev Kelvin Holdsworth, the Provost of St Mary's Cathedral, Glasgow says it well:
This wasn't a vote about gay people. It was a vote about what kind of church we want to be.

This is a mainstream Anglican response to the question that has beset us. Not building windows into other men's souls and respecting the consciences of all. This is what Anglicans do. This is who we really are. And this is the only solution that will work in the Anglican Communion. Let it be seized on by all who seek peace and goodwill.

This solution to the Anglican agonies of recent years bears the label – Made in Scotland for Export.

Made in Scotland with love.
If you appreciated this post, remember to like the liturgy facebook page, use the RSS feed, and sign up for a not-very-often email, …
Similar Posts: