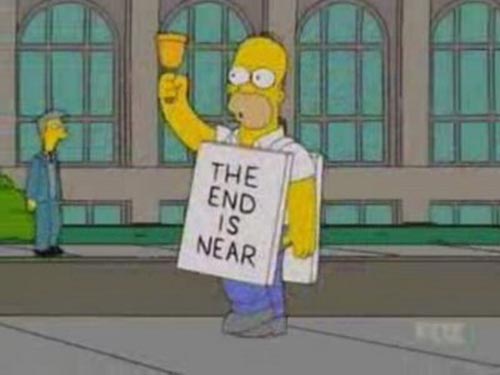 I have a mathematics degree, and I'm not afraid to use it.
Full disclosure: past performance is no guarantee of future results.
The 2013 Census data on religious affiliation released by Statistics New Zealand on December 10 graphically looks like this: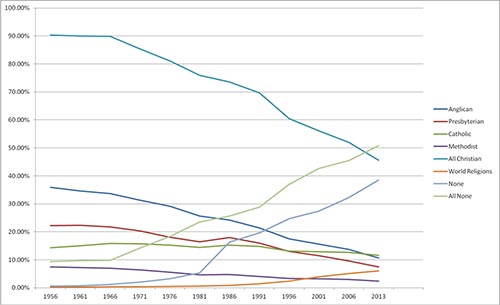 Anglican affiliation has declined 17 percent – from 554,925 to 459,771 – over the past seven years, according the latest census.
Partly this is because the average age of Anglicans is very high.
Last census there were 41,000 Anglicans over the age of 80, only slightly less than those under 10. But this still means that many Anglicans in 2006 have changed their affiliation since then – probably to "none".
Meanwhile, for the first time in New Zealand history Roman Catholics outnumber Anglicans.
Catholics now number 492,324, although they too have declined slightly from the last census.
The big growth has been in those of "no religion," up from 32.2% last census to 38.6% this census.
And when we add in those who objected to state their religion or who didn't answer the question, a majority of New Zealanders (50.82%) now have no religious profession.
Let me add some other points:
This is people who write themselves down as identifying with a religion. It does not mean any active involvement with the faith they tick. They may not even be baptised, but still write down "Anglican".
Anglicanism in this country keeps no national statistics. Would there be 30,000 in Anglican Churches this Sunday? Certainly less than that next month. Would there be three or four times that number in Roman Catholic Churches this Sunday? When I attend worship, I have an OCD tendency to work out how many are present. Anglicans, when they report on a service I have been present at, can easily guess report a far greater number than I know were actually there. It may be time for the Moa to take its head out of the sand with a bit more honesty – painful as that may be; including honesty about our tendency to have huge, top-heavy structures that preserve the (false) impression (to ourselves and to others) of serving a far larger constituency.
The graph of Anglican affiliation has a very consistent slope. Following that slope, Anglicanism on these shores ceases to exist in two decades' time.
The graph of "All Christian" has quite a regular slope (from 90% less than five decades ago). If Roman Catholics can maintain a steady line, less than 4 decades from now non-Catholics cease to exist here.
I wrote recently what might be some of the healthy dynamics of Roman Catholicism that lead to these statistical results:
A primary focus on worship and spirituality.
Schools. Roman Catholic schools are a primary instrument of education and formation, of mission and ministry.
Homogeneity in worship. The expectation is that you go to worship on Sunday, the focus is less on the individual community where you participate, and so when you travel (or when quakes destroy your building) you can move more easily from one worshipping community to another.
Well-trained and formed clergy.
Next year is 200 years since the first preaching of the Gospel on these shores and the arrival of Anglicanism. To celebrate, an unstaffed building is being built on the spot where that event happened. I hope that is not a prophetic sign of our not-far-off future – a memorial building to an interesting, quaint, past piece of our country's history.
*****
Other sites discussing and reporting this: here, here, here, and here.
Similar Posts: