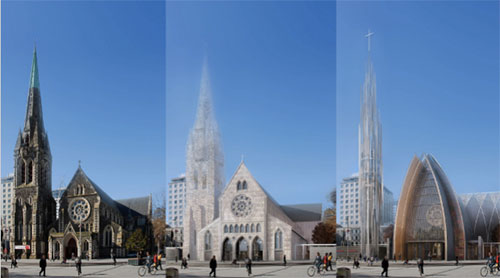 Many of you will have read the article (in The Press) on a possible modern cathedral for Christchurch where I am quoted significantly, and you might wonder about my thoughts.
The article is here.
The online version has a video about the Oxford Terrace inner-city Baptist Church that obviously is not available in the printed version and is certainly worth a view.
I was not one of the ones who 'declined interview requests from The Press after a few days of "taking advice".' My response to the request for an interview had: "Thank you for your email.
I'm afraid I have no more information than is on my site… you will have seen that my contribution to reflection was a series on liturgical architectural principles. I don't think I have anything to add to those currently. I look forward to reading your feature."
You can find your way through my points here and here.
UPDATE: News that the Bishop is asking Synod in September to vote.
The media release and other information can be found here.
If you appreciated this post, do remember to like the liturgy facebook page, use the RSS feed, and sign up for a not-very-often email, …
Similar Posts: