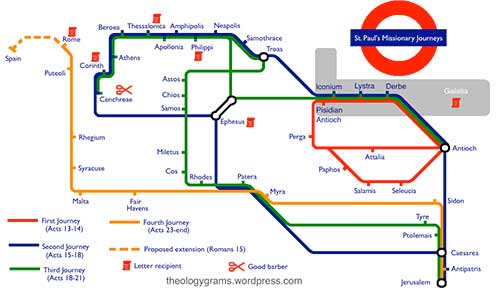 image source (and larger). H/T Peter Carrell. Comments at the original:
Mind the Agape.

The red line should stop at Derbe and the green needs a spur into Illyricum. With the creator's response: You're right the red line should stop at Derbe, but I think I just liked the circular look, though I might change that some time. Illyricum doesn't feature because I found the ref in Romans 15 a little vague – did Paul go to specific places there or is he describing a sweeping view of his journey? I have no idea about that to be honest, but would be interested to learn.

Paul's journey from Ephesus to Macedonia should go via the Troad to accommodate 2 Cor 2:12-13. It is disputed whether Derbe was in Galatia. Troas and Assos are quite close.
Similar Posts: