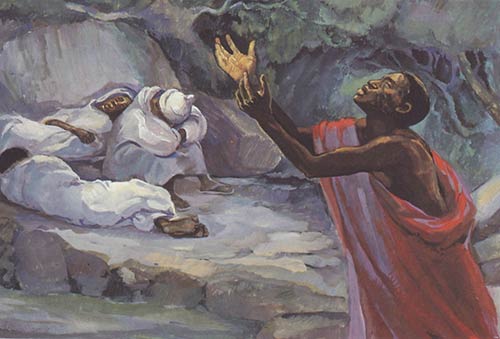 This is part of a series – The Lord's Prayer in slow motion:
the first is Lord, Teach Us to Pray
the second is Our Father
the third is Our Father (part 2)
the fourth is Our Father (part 3)
the fifth is Hallowed be your Name
the sixth is Your Kingdom Come
the seventh is Your will be done.
the eighth is Give us today our daily bread.
the ninth is Forgive us our sins.
Save us from the time of trial.
I hope you've been getting a sense of how difficult some of this stuff is to translate. Matthew and Luke have differences in the Lord's Prayer – but they both agree on this line:
καὶ μὴ εἰσενέγκῃς ἡμᾶς εἰς πειρασμόν.
It's very hard to translate. The difficulty is in the last word, πειρασμόν. It can mean temptation, testing, trial, or even experiment.
The older translation was, "Lead us not into temptation." But, the more you think about it, the more difficulties that translation has. You are asking God not to lead us into temptation. The letter from James explicitly says God does not tempt us. God does not try to get us to sin.
No one, when tempted, should say, 'I am being tempted by God'; for God cannot be tempted by evil and he himself tempts no one. (James 1:13)
For a while in NZ, and I'm sure others overseas did as well, we had, "do not bring us to the test". It became a sort of political statement in the 80s when NZ and the church was divided over the South African rugby tests. Do not bring us to the test!
Sometimes, in the Bible God tests people to strengthen them. In these situations the testing is a good thing, sort of a religious version of "No pain no gain". So, again, we have problems: God, do not bring us to the test – Why would we be instructed to ask God to spare us God's good tests?
In 1975, after much study the English-speaking churches internationally and ecumenically settled on "save us from the time of trial". Not everyone was happy, but it was an agreement.
Paul writes to Corinth that we won't experience a trial greater than we can bear.
No testing has overtaken you that is not common to everyone. God is faithful, and he will not let you be tested beyond your strength, but with the testing he will also provide the way out so that you may be able to endure it. (1 Cor 10:13)
In the paraphrase of the Lord's Prayer by Jim Cotter (adapted in the NZ Prayer Book) there's the essence of that idea:
From trials too great to endure spare us.
Jesus in the garden of Gethsemane, knowing that he was about to be betrayed by a friend, captured, and probably executed, is praying. And Jesus says to his friends: "Keep watching and praying, that you may not enter into temptation." Jesus uses exactly these words we are reflecting on.
"Save us from the time of trial" means "help us not to give into temptation".
When things go well, and we do well, we are tempted by pride. When things go bad, and we do poorly, we are tempted by envy and resentment and anger. When life is good, and we are wealthy, and all is fine, we are tempted to forget about God; and when there is disaster and adversity, we are tempted to loose faith, and cease trusting in God. Friends tempt us. Enemies tempt us. Pain tempts us. Pleasure tempts us. Strong people are tempted. Weak people are tempted. Temptations are obvious. Temptations are subtle.
And for many of us, maybe most of us, trial will come in our life. And then our foundations are tested. What are you building your life on?
Do not lead us into temptation. Do not let us succumb to temptation. From trials too great to endure spare us. Save us from the time of trial.
If you appreciated this post, consider liking the liturgy facebook page, using the RSS feed, and/or signing up for a not-very-often email, …
Similar Posts: