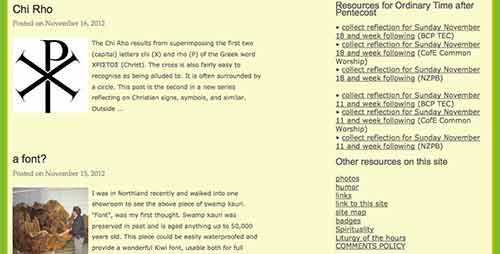 There are generally more than one and a half thousand people visiting this site daily. Many of you are regulars – and we form a community here. Thank you. Some of us pray for each other, and this place.
Others go to a few pages and miss some of what is offered here.
In the top right corner there is a very good search box. Try it.
There is an RSS feed you can subscribe to (this is good for the blog posts, but remember it does not pick up other changes on the site), a facebook page you can like, a twitter profile you can follow.
Run your cursor along the top menu bar, and see the sub-menus under "Liturgy Home", "Worship Resources", etc. There you see my book Celebrating Eucharist, free for you. And a Chapel, full of resources for your prayer life. Click on the buttons in the menu bar for further resources.
There are series of blogs:
about atheism
about architecture
about the Bible
is there another series that you have found helpful?
Every week there is a commentary on the collect (on the home page on the right hand side, and see here).
When reading a blog post (as you are currently) you see other recent posts (on the right), and recent comments. The look of the Liturgy Home page gives a different view. This site is committed to daily prayer (the daily office). There are resources for Lectio Divina (using the Bible in prayer); silent prayer (meditation). The list continues there down the right hand side.
What are some of the parts of this site that you find most useful?
Similar Posts: