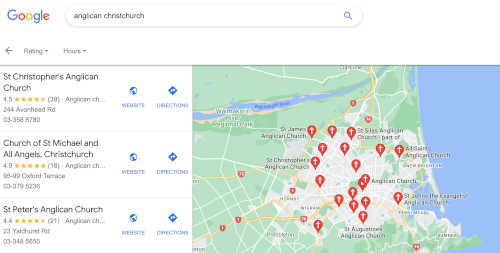 Your church's presence on Google Maps and Google's Business Profile is an essential component of your church's or parish's online presence.
If you have not yet claimed or added this profile yet, you need to spend ten minutes doing so. If your profile is not up to date, you need to spend ten minutes updating it.
It should have your service times, some photos, video, special information, contact information, a link to your (up-to-date) website,… This is your single most valuable online information.
Add keywords into your description: Anglican; church; Sunday; service;… These are what people are searching for if they want to go to church, and Google sorts information for relevance, distance, and prominence. You can have a FAQ section (Frequently Asked Questions): put keywords carefully into that. Similarly for posts. Testimonials/Reviews can also have such keywords. You can encourage people to post Reviews. It is important to respond to Reviews – that shows that you are engaged and care. Again, this only takes a few minutes a week.
This is a FREE resource (and simple to manage) – I would maintain that for most of you, your Google profile is getting FAR more views than your expensive, hard-work website ever will!
Check out your local area, search for churches, does your church come up? In Google maps? In Google information? What is the information like? Attractive? Would you consider going to your church if you weren't going already – based on your online presence only?
This is the third in a recent series about the presence of church online – the place where most people, especially younger people, now live. See previous posts here and here.
If you appreciated this post, consider liking the liturgy facebook page, the Twitter profile, and/or using the RSS feed, and/or signing up for a not-very-often email, … – if you are on Instagram, please follow @liturgy.
Similar Posts: