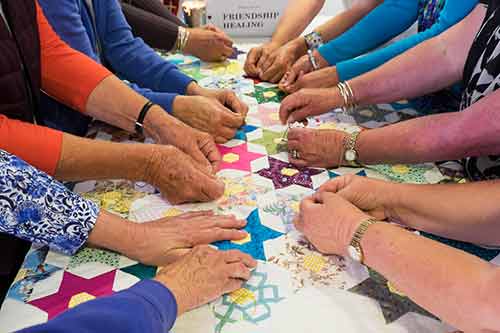 I have already reflected on a Eucharist at St Andrew's, Plimmerton, and there is another part of that service I want to reflect on.
After receiving communion, most persons of the congregation stopped by a nearby quilt hanging vertically. Each of these persons tied a knot in one of the threads protruding from it, stopping to silently pray.
When I asked about it afterwards, I was told that this parish is the first New Zealand Chapter of the Prayer Quilt Ministry. There was a leaflet available about this in the foyer.
People make a quilt, add these knots prayerfully to threads as I have described, and then give the quilt to someone who has asked for one or who is in need and who has agreed to receive one.
The organisation's website says:
Can you touch a prayer?
Can you pull it close and feel its comfort?
You can if it's part of a Prayer Quilt from Prayers & Squares, the Prayer Quilt Ministry.
Some, reading this post, might want to reflect if this is something you might like to begin doing in your community.
I also want to press the reflection a little further – around "touching a prayer". There are natural human tendencies to have outward, visible signs of inward, hidden, spiritual realities. This is the foundation of our sacramental life, and I think we live in a sacramental universe.
Touching prayer goes right back to using handkerchiefs and aprons that had touched Saint Paul (Acts 19:12).
This is a year particularly to remember, celebrate, and reflect on the Reformation. I have visited many church buildings in the UK and Europe where the art was destroyed and vandalised through the Reformation period – outward visible signs were denounced. Little by little we are back-peddling from that Reformation condemnation of our God-made human tendency and need that the invisible be made visible.
Any number of outward signs are returning to use: candles, stained glass, icons, vestments, ash,… And new outward signs, such as a prayer quilt, are being drawn into this movement.
What do you think?
If you appreciated this post, consider liking the liturgy facebook page, using the RSS feed, and/or signing up for a not-very-often email, …
Similar Posts: