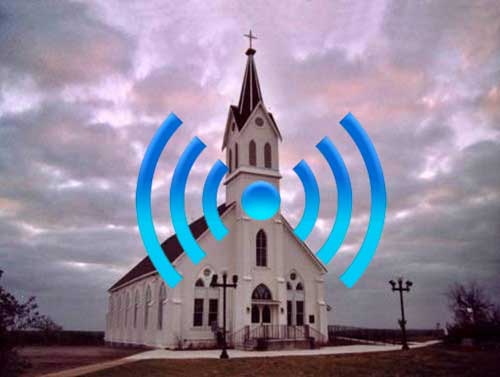 Most of us know where to get free wifi. Macdonald's is a well-known example. Increasingly there are places, from in shopping malls to at airports, where you can also charge your digital device. There are a variety of connections where you can attach your phone, tablet, iPad, or laptop.
People congregate there, normally buying a coffee or whatever at the same time.
I'm assuming your church community already has a quality website, facebook page, and interacts in the now-no-longer-new land of the internet.
Could your church building be(come) a place well-known for providing good, free wifi (and charging your digital device). Suddenly your church appears on apps etc. showing where to find wifi. The home page that appears as people click your terms of use can include them liking your facebook page from their profile, it can give service times and other things that people might find useful, it can provide a thought for the day, a welcome from the priest/pastor. The possibilities are endless.
Yes – during services we may not want people milling about noisily around the foyer while we are worshipping; but there are ways around that (wifi off during service times; only showing the info about the service at that time;…)
Do you do this?
Do you know of places that do this?
What do you think?
Similar Posts: