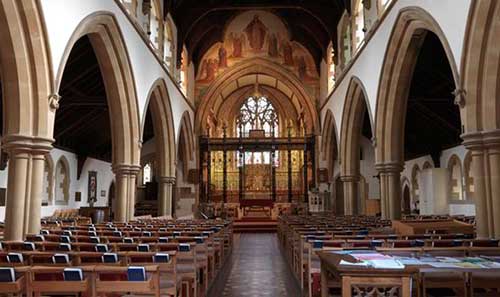 The Church of England has just published its Statistics for Mission 2019. There's plenty that is so unexciting, it will help you sleep, if this is your bedtime reading. But let's highlight an important point or two (that might keep some people awake!): there are 16,000 church buildings for worship in the CofE. Half of these, 8,000 church buildings, have 26 adults or fewer at worship on a Sunday!
Take a moment to let that sink in.
Rev. David Keen takes the words out of my mouth:
If you had 26 people to form a Christian presence in a community, you wouldn't start from here. You wouldn't have a listed building which costs thousands to heat and insure. You wouldn't have the protocols for running the church written into law. You wouldn't have so many aspects to Sunday worship (warden, verger, organist, reader, prayer leader, vicar, sidesperson) that there's barely anyone there who isn't there because they're on a rota. …In fact, you probably wouldn't open a building at all.

Last Chance To See…… Church of England Membership and Attendance Stats 2019
I really encourage you to read the whole of David Keen's post.
I think there are two (interconnected) sides to this coin: such a small church community means that finances and resources to be a healthy, flourishing community are very thin and stretched; and such a small church community struggles effectively to serve the wider community (its majority energy being drained by inward-looking survival).
What is the situation in New Zealand (or wherever you, the reader, are)? Here, in NZ, we don't keep consistent national Anglican church stats – good luck even working out regionally or locally the kind of transparent, honest statistics that can be drilled down in the manner described at the start of this post. [At the end of this post, I point to some previous attempts of mine to reflect honestly about our statistical reality].
I've been involved more than once in wider church strategic planning. In one, I could see a rapidly growing urban area that I recommended our church get land and place a young family there to grow a church community from the time that this area was beginning to grow. I received a resounding "no!" Nowadays, this area has at least four primary schools and at least one secondary school as it continues to grow rapidly, and… no significant Anglican Church presence.
One of the issues is that Anglicanism (as other denominations) makes decisions based on who is in the Anglican community – rather than who are not (yet) in it. Essentially, local Anglicans pay for local Anglican mission and ministry. There may be lots of people living in an area, but financing mission and ministry within that area is usually dependant on the local Anglican worshipping community there.
My missional perspective doesn't start from the number of worshipping Anglicans in a congregation – it begins with the number of people in an area. I would have an approach that those who might become part of the church community (anyone?) be significant drivers to what might happen within that church community… that way, they might become part of it…
A few years ago, at synodical level, I formally asked a question from a missional perspective. What is the local population that we now strategically think is appropriate to have an Anglican [translate that into your own tradition] community and full time/paid ministry? I remember when I thought that every area with about 10,000 people living there should have a parish community and a stipended priest. There was a time when I functioned fine as the priest in a parish where 5,000 people lived, and I would have been upset if there weren't at least 100 people in church on Sunday. I suspect we should now be doing our calculations something like a priest and parish community every 20,000 people. With some clear understanding like that, we could do our planning, and see where we currently have our parishes and buildings situated, and then work out a plan from there. But no one would answer my missional question at synod. Instead, the response was about vague allusions of growth in some congregation numbers… "signs of hope" and other such talk…
Another issue: money. And, surprisingly, I think it may be the opposite of what people think: the church has too much. The church and its ministry is supported by massive trusts and funds and properties that mean that if we have "26 people" (please get the point of my scare quotes – the 26 is not literal here) we can continue to act and think that it is appropriate to afford full time leadership, part time assistance, and full time, regional (diocesan) resources. As for the property – I recently mentioned that we are beginning to follow the paradigm of selling off the cutlery so that we can continue to have meals…
We are experiencing boiling frog syndrome. Those of us going to church Sunday by Sunday generally are not noticing the children are no longer there and we are ageing and the gaps between us are increasing and the numbers present are getting less…
I am convinced that people's yearning for meaning, for fulness of life, for ethical foundations, for community – all the things answered by the Gospel, the Christian community, and the life of Jesus – are as relevant in today's world as they have ever been. A few older people gathering in an unusual building does not seem enough to draw people to the fulness of life that we say we access.
How do we find a new, Third Millennium way forward?
Further reading:
Strategic Planning
What prevents New Zealanders being Christians
The end is nigh
Counting the flock
Anglican growth and decline
Most people are over church
End of the Anglican Church
Similar Posts: